Bike Month 2017 brings fun and awareness to cycling as a mode of transportation.  
SLO Regional Rideshare and community organizers across SLO County are gearing up for Bike Month and Bike to Work Day this May with over 80 events on the calendar. Bike Month and Bike to Work Day, which occurs Friday, May 19th this year, are part of a national movement that brings awareness to bicycles as a mode of transportation. Studies have shown that biking to work cuts your risk of cancer and heart disease almost in half and Bike Month 2017 offers multiple opportunities to make an active commute choice.
"Thanks to a dedicated host of volunteers, we enjoy one of the largest Bike Month celebrations in the country, right here in SLO County. This year we are also planning for one of the biggest Bike to Work Day celebrations SLO County has seen yet," said Stephanie Hicks, SLOCOG Public Information Office Division Chief. "This year's Bike to Work Day activities make it easier than ever to try biking to work through organized rides and employer sponsored events."
A program of SLO Regional Rideshare, Bike Month is the largest community organized event in San Luis Obispo County. A full calendar of free events, online challenges and prizes all encourage biking to work or school for fun, fitness or transportation. To see the full calendar, visit rideshare.org/bike-month.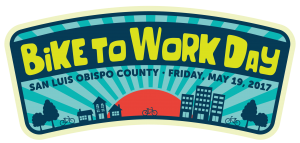 BIKE TO WORK DAY
May 19th is National Bike to Work Day and local celebrations will encourage commuters to bike to work with free breakfasts and exclusive giveaways for people on bikes including a Bike to Work Day swag bag and a chance to win a bike. For a complete list of Bike to Work Day station events, visit rideshare.org/bike-month and view the calendar for May 19th, or click here.
An evening Bike to Work Day After Party will also take place at the SLO Guild Hall from 6:30-9:30 p.m.
BIKE TO SCHOOL DAY
Schools across SLO County will celebrate Bike to School Day on Wednesday, May 10th this year. To date, 34 local K-12 schools have signed up to host welcoming events for students, parents and teachers who bike to school that day. A list of participating schools can be found at slosaferoutes.org.
WORKPLACE CHALLENGES
From May 1-31, the Bike Month Challenge will encourage competition among commuters in SLO County who log their trips by bike at iRideshare.org. Employees and their co-workers will compete against other workplaces of similar size for the highest percentage of overall workplace participation. Each workplace size category winner will receive a Bike Month award trophy, a paid membership with the League of American Bicyclists and an opportunity to compete in the Bike to Work Week All Star Challenge against Santa Barbara County workplaces in 2018. To learn more and join a challenge, visit iRideshare.org.