Congratulations to our virtual Walk To School Day winners that were awarded the highly coveted Walk to School Day Trophies!
They all had the highest participation in this years Walk to School Day virtual activities.
Elementary School: Pacheco Elementary School
Middle School: Los Osos Middle School
High School: Arroyo Grande High School
District: San Luis Coastal Unified School District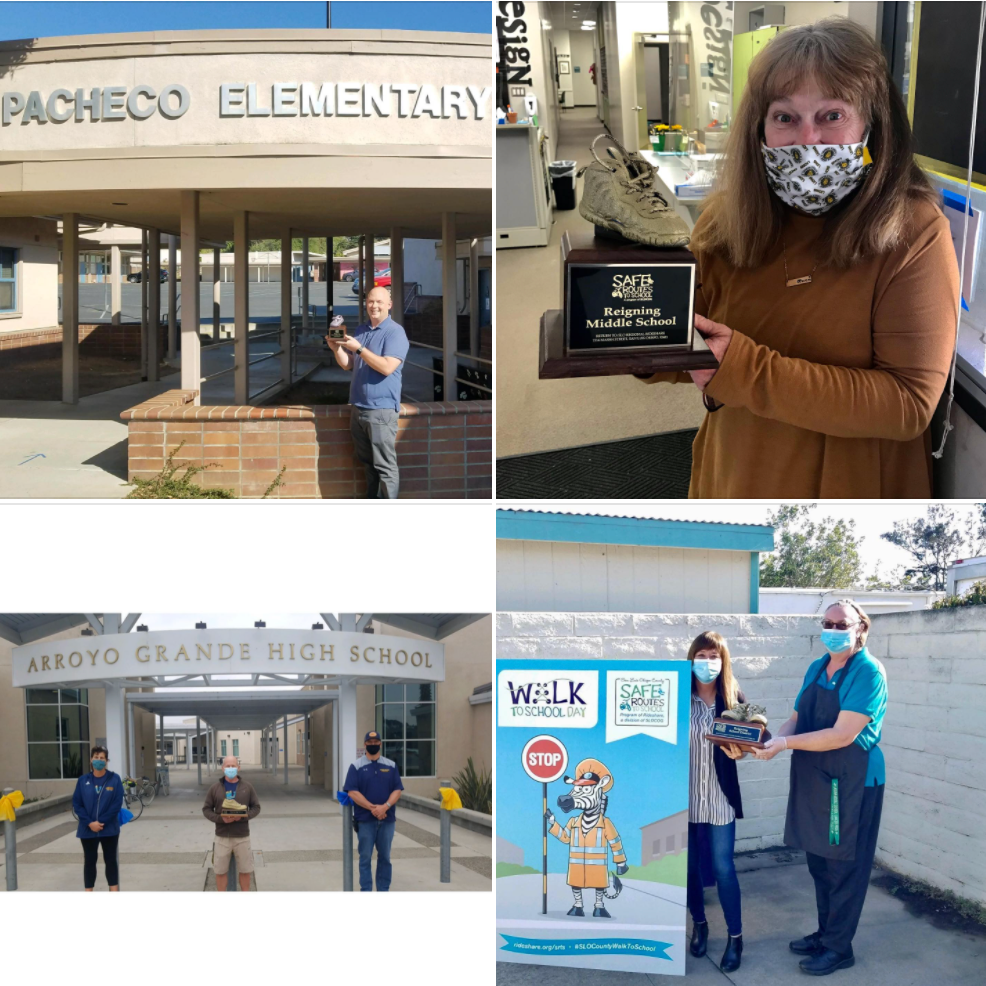 ---
Calling All Safe Routes to School Advocates! Bike SLO County is hiring.
Want to make a difference in the lives of SLO County kids by contributing to programs that improve their health and safety, while having some serious FUN? Bike SLO County is seeking a part-time Bike Education Coordinator to lead in the development and delivery of a comprehensive bicycle education program for elementary school students (Safe Routes To School) to adults through a combination of video content, in-person training, and virtual instruction. If this is you or someone you know, you are strongly encouraged to apply and/or share this opportunity!
Deadline to apply is September 28, 2020.
---
Safe Routes to School is an initiative that works to make it safe, convenient, and fun for children to walk and bicycle to and from schools. The goal is to get more children walking and bicycling to school, improve kids' safety, and increase health and physical activity. In 1969, nearly 50 percent of all children in the United States (and nearly 90 percent of those within a mile of school) walked or bicycled to school. Today, that number has plummeted to fewer than 15 percent. During the morning commute, driving to school represents 10-14 percent of traffic on the road. Studies show that Safe Routes to School programs are effective at increasing rates of bicycling and walking to school and decreasing injuries, while helping reduce traffic congestion and pollution around school zones.

Encourage active transportation choices at your school with support from Rideshare.
The mission of Rideshare's Safe Routes to School (SRTS) program is to educate and empower school communities, K–12 students, and parents through tools and incentives that encourage active transportation choices and create change in family/student commuter habits. Any San Luis Obispo County school faculty member, administrator, or parent wishing to build or grow a Safe Routes to School program is urged to contact Rideshare staff for free support in the form of community resources, incentives, and on-bike education for students. Additionally, Rideshare will market your school as a Safe Routes to School community member in public relations activities, advertisements, newsletters, and on our website.
Examples of school-site SRTS initiatives include:
On-bike Education Classes for students
Train-the-trainer program to help existing school PE programs implement learn-by-doing bike and pedestrian safety curriculum
Organization and promotion of Walk/Bike to School Days
Implementation of a School Pool program (carpool matching via iRideshare.org software)
Formation of a Bike Brigade and/or Walking School Bus
Creation of and/or support for a school-site Transportation Safety Team
New program ideas are always welcome!
Schools seeking to lead by example and enable teachers and staff to reduce their vehicle impacts around sites should consider joining the region's Back 'N' Forth Club for employers/commuters.
Contact us to set up your program today!
---
Student Bus Passes
---
Earning a Cyclogy Degree at Oceano Elementary
The new bicycle track at Oceano Elementary School is one of California's first permanent schoolyard bicycle tracks. It was designed to help children practice riding with others by providing an environment for teaching kids proper signaling, yielding, and starting from a full stop. It also has a number of different types of intersections and street signs to create real-life situations.
SLOCOG staff was approached by a longtime bicycle advocate, Jim DeCecco, a teacher at Oceano Elementary with the idea of creating a safe place for students to practice using active transportation on the school playground. Staff worked closely with Jim and the school physical education teacher to understand how the playground is used so that it does not distract from the school's other needs. From these discussions, the circle, kickball bases, and foursquare courts had to be incorporated in the design. Staff made the circle into a roundabout, the foursquare platforms where used to simulate a four-way stop, and the kickball bases were placed into the design. Thanks to the collaboration of school administration and the school district, this project was implemented within three months. SLOCOG's Safe Routes to School Program is interested in working with additional schools to implement similar concepts.
Cycle Track Application, CLICK HERE
Through Caltrans Active Transportation Grant, Rideshare has the funds to implement cycle tracks at approximately 9 schools throughout the county over the next three years. This application is the first step toward funding a cycle track at your school.
School Participation
The SRTS Task Force provides mini grants to schools interested in starting or maintaining participation in active transportation, offers workshops, and provides incentives for schools to participate in international walk to school and national walk to school day. If you are interested in getting your local school more involved in the SRTS movement, email info@rideshare.org or call 597-8022.
In Partnership with Bike SLO County, SLOCOG's SRTS Program provides elementary schools with 4th or 5th Grade "Driver's Ed" which is compliant with common core standards and is certified by the California Department of Education. This program is available to all schools and includes two 1.5 hour sessions on two different days. To book an assembly, please contact Bike SLO County.
To learn more about SLO County's Safe Routes to School Program, CLICK HERE.
To join our Safe Routes to School Newsletter, CLICK HERE.