---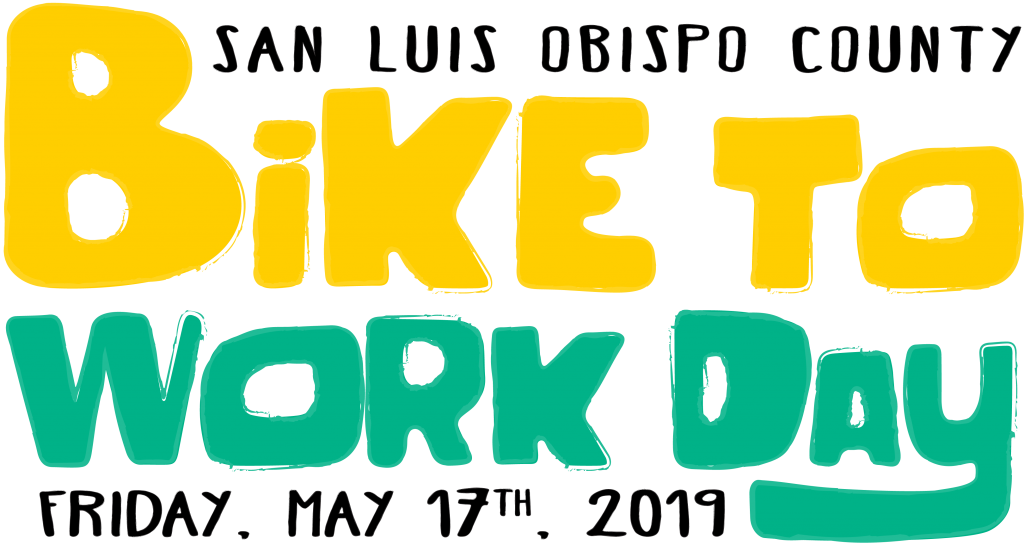 Friday, May 17th is National Bike to Work Day! Why not switch up your commute and make the choice to connect with your community? Pedal over to any station on Friday, May 17th for free food, great giveaways and tons of fun!

Go for Gold –
Bike to Work Day Commuter Challenge,
May 1st-17th
Whether you choose to carpool, walk, bike, take the bus (or bike AND bus!), you can compete for exclusive title awards at iRideshare.org as a company, department, team or individual.
Commuter challenge ends at noon on May 17th, and winners are announced on Facebook Live via Rideshare's Facebook page at 5:30 p.m. on Bike to Work Day, May 17th.

Celebrate Bicycling Region-Wide, ALL DAY
Bike to Work Day, Friday, May 17th
Join or lead a group ride:
Getting there together is safer and more fun! Join a group ride or post your own at: iRideshare.org/#/events.

Enter to win a $1,500 folding electric bike, pick up exclusive swag, and enjoy FREE food on your way to or from work.
Download the Kick-it Points app to your Apple or Android device to access exclusive Bike to Work Day extras:
Mint + Craft: free drip coffee
Kreuzberg: $1, 12 oz cup of drip coffee
Old SLO BBQ: FREE side with ANY Purchase!
Breakfast Buzz: BOGO any entree
Woodstock's Pizza: Free SLICE
SLOCO Massage: 50% off any service for first timers
Gus's Grocery: 50% off or BOGO sandwich
House of Bagels: BOGO any menu item, excluding premium drinks
7Sisters Brewing Co.: BOGO on pints of 7Sisters beer
The 4 Cats: free expresso with purchase of a sandwich (breakfast or lunch!)
Plate some energy, pick up a Bike to Work Day giveaway bag, and follow instructions for your chance to win the electric folding bike at the station locations below!!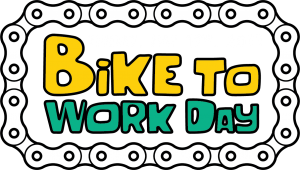 Friday, May 17th
Note to station attendees:
When possible, consider bringing your own reusable mugs, plates, utensils, etc. to help reduce waste.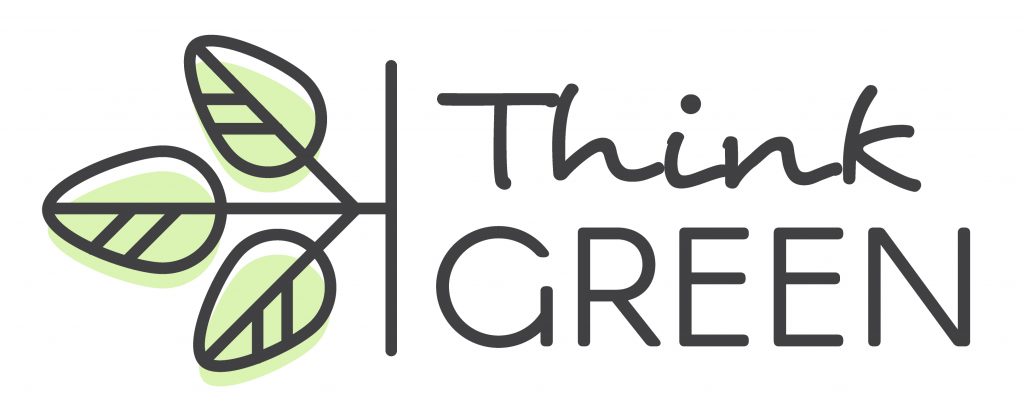 Also note that food and giveaways are available strictly on a first-come, first serve basis. Please be courteous to your station host and thank them for supporting people on bikes! 
Morning Stations
#1
Scientific Drilling
3003 Rollie Gates Dr., Paso Robles
7-9 AM
Visit the County's most remote Bike to Work Day Breakfast Station, and you won't be disappointed with the array of breakfast burritos, coffee, granola bars, water, etc.
#2
Atascadero State Hospital (ASH) with K-Man Cyclery
10333 El Camino Real, Atascadero
7-9 AM
After your group ride from Sunken Gardens in downtown Atascadero, swing by the K-Man tent at the entrance to ASH for some bomb burritos and locally brewed coffee. After you snag your giveaway bag, join the police-escort onto ASH's campus!
#3
City of Morro Bay w/ Morro Bay Chamber
595 Harbor St., Morro Bay
7-9 AM
Smell the bike buzz lingering from the finish line of AMGEN Tour of California Stage 4. Stop at Morro Bay City Hall for a cup of coffee, breakfast burrito and some bike swag!
#4
Los Osos Library
2075 Palisades Ave., Los Osos
7-9 AM
Stop by North Coast's newest Bike to Work Day Breakfast Station, featuring SLO Roasted Coffee and Big Sur Bars! Discover your local library, and support biking to work. Chat with staff that ride to work and learn about the wealth of benefits that biking offers. Get some free goodies, too!
#5
Cal Poly
University Union
7:30-9:30 AM
Park your bike and join campus Commuter Services, BoltAbout and Yerba Mate for a refuel on your way to work.
#6
City of SLO
990 Palm St., SLO
7-9 AM
You made it to downtown, just pedal a little further to City Hall and enjoy some amazing treats and coffee with your friends at the City.
#7
SLO Natural Foods Co-Op
2494 Victoria Ave., SLO
7:15-9:15 AM
SLO Natural Food Co-op will have deep Dark Mahogany coffee, roasted locally by Coastal Peaks, new house made super food shakes, breakfast burritos, vegan fritatas, and more. All are welcome to stop by!
#8
Behavioral Health
277 South St. #T, SLO
7-9 AM
Come celebrate Bike Month with Behavioral Health and help demonstrate what SLO County is capable of when we all make an effort to reduce congestion, improve our health, save money and commute smart. People can stop by on their way to school or work. May is also Mental Health Awareness Month. The County encourages people to do self-care and activities to increase their mental health.
#9
Costco Wholesale
1540 Froom Ranch Way, SLO
7-9 AM
Costco is hooking our community up with light breakfast refreshments (as in the awesome things you love from Costco) as well as the low down on Costco memberships, services, and products.
#10
Sunrun
775 Fiero Ln., SLO
7-9 AM
Last year Sunrun raffled off some exclusive giveaways not available at other stations and served delicious waffles. You can expect this year to be even more awesome.
#11
Garing, Taylor & Associates w/ Trinity Cyclery
141 S. Elm St., Arroyo Grande
7-9 AM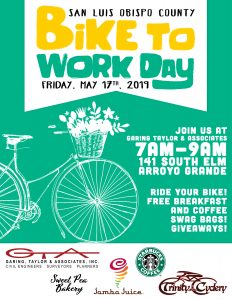 Bike to work BREAKFAST! Come support the best South County breakfast with fantastic partners, like Jamba Juice, Trinity Cyclery and Sweet Pea Bakery.
Lunch Stations
#12
Caltrans District 5 HQ
50 Higuera St., SLO
11 AM-1 PM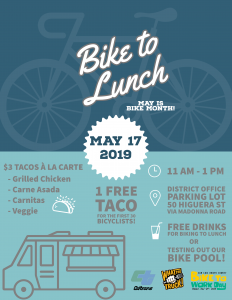 Bike to lunch at Caltrans! Snag a $3 taco a la carte and FREE drink for biking to lunch at Caltrans. If you work at Caltrans, test out the bikeshare ("Bike Pool") or ride over on your employer's shared bike. You don't have to live in SLO to participate in Bike to Work Day!
Evening Stations
#13
Sunken Gardens Bike Fest
5942 W Mall., Atascadero
4-6 PM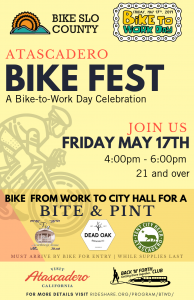 Get the weekend started right with Visit Atascadero's first-ever, "Happy Hour Station" Bike Fest to wrap an incredible Bike to Work Day! Together Ride Share and Bike SLO County would like to celebrate YOU for taking an alternative mode of transportation and enjoying all that North County has to offer.
Grab a bite from Fig at Courtney's House and a pint from Dead Oak or Tent City and enjoy the picturesque beauty of Sunken Gardens from the steps of City Hall – all for a Bike to Work Day well done!
Must arrive by bike for entry; bike parking provided. Event Is 21+. Bites and Pints available while supplies last – you better ride fast!
#14




Ten Over Studio


539 Marsh St., SLO
4-6 PM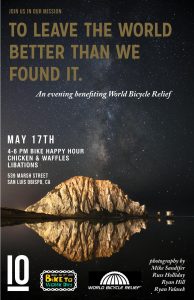 Join Ten Over for an evening celebrating bikes and our amazing community! Back by popular demand, Ten Over will be pairing happy hour beverages with a plateful of chicken and waffles. Ten Over will also showcase work by local ocean photographers, Ryan Hill and Russell Holliday, with a portion of sales donated to World Bicycle Relief. Bike to Ten Over and get a raffle ticket to win a photo.
#15




SLO Natural Foods Co-Op


2494 Victoria Ave., SLO
4-6 PM

Join SLO Natural Foods Co-op for "HandleBar Happy Hour" with tastings from an array of healthy beverages, including plant based milks (like oat milk, hazelnut, and coconut) as well as kombuchas and new house-made healthy green shakes.
#16




South County Social Services


1086 E. Grand Ave., Arroyo Grande
4-6 PM

Get social with the South County Social Services Happy Hour Station. DSS is serving up fresh Ben Franklin sandwiches straight from SLO, ice-cold beverages, and treats from Sun N Buns Bakery (a Morro Bay company). Don't miss the first-ever after party in South County!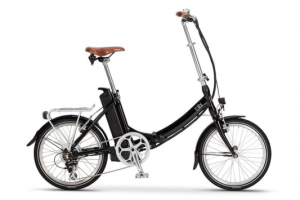 Follow instructions posted at your station to enter to win a folding electric bike before 5 p.m. on May 17th! We will announce the lucky winner via Facebook Live at 5:30 p.m. from one of the stations above. Bike to Work Day participants are welcome to attend multiple stations, but we ask that you please take only one giveaway bag as our supplies are limited.
Show Your Support for Bike to Work Day
Make a $10 pledge of support and get a 2019 Bike to Work Day t-shirt that lets people know you support smart commuting efforts.

Did you know that the entire month of May is also Bike Month?
In addition to Bike to Work Day, there are lots more ways to celebrate Bike Month in SLO County this year:
Visit SLOShift.org – the new home for Bike Month in San Luis Obispo County! It's a place where people who ride bikes can find year-round bicycle inspired events—and even submit their own! SLO Shift is run entirely by the community, for the community, with the purpose of elevating and expanding bike culture in our region. Every month is Bike Month at sloshift.org!
Apply for sponsorship funds from Rideshare to host your own Bike Month event.

Bike to School

on Wednesday, May 8th.
---
ICYMI: Bike Month Has a New Home!
Last year, we introduced you to sloshift.org, the new home for Bike Month in San Luis Obispo County! It's a place where people who ride bikes can find a year-round bicycle inspired events — and submit their own! SLO Shift is run entirely by the community, for the community, with the purpose of elevating and expanding bicycle culture in our region. Every month is Bike Month at sloshift.org!
This May, Rideshare will continue to focus on its core mission to reduce the number of single occupant vehicles on our roadways during peak commute hours through Bike to Work and Bike to School Day activities. We will also continue to financially support Bike Month events that promote bike culture in our region outside of peak commute hours, through sponsorship funding applications available at sloshift.org.
#letsgetvisible