Map Unavailable
Date/Time
Date(s) - 05/19/2017
All Day
Categories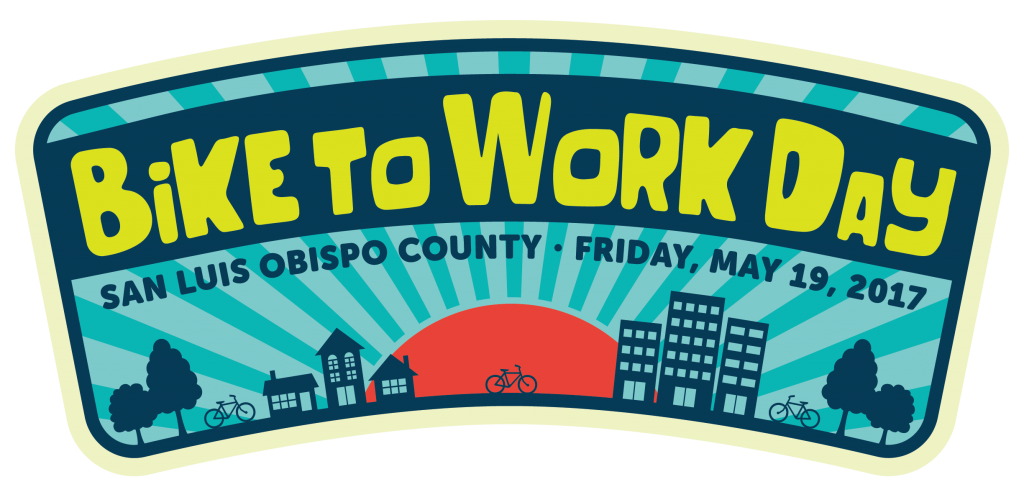 Friday, May 19th is National Bike to Work Day! Be a part of the biggest day in May and help demonstrate what SLO County is capable of when we all make an effort to reduce congestion, improve our health, save money and commute smart. See information below or check out the map in the April/May issue of SLO Life Magazine!
2017 Bike to Work Day Commuter Stations
Morning commuter stations will be open to people on bikes (see below for times) and a Bike to Work Day evening after party will take place at the SLO Guild Hall from 6:30-9:30 p.m (details below). All stations are first-come, first-serve and giveaways are subject to availability. Please be courteous to our station hosts and thank them for supporting people on bikes!
Scientific Drilling


3003 Rollie Gates Dr., Paso Robles
7:15-9 AM
Atascadero State Hospital with K-Man Cyclery


10333 El Camino Real, Atascadero
6-8 AM
City of Morro Bay w/ Morro Bay Chamber


595 Harbor St., Morro Bay
7-9 AM
Cal Poly


Mustang Way, SLO
7:30-9:30 AM
Rideshare w/ SLO Bike Club


1114 Marsh St., SLO
7-9 AM
Transitions Mental Health


784 High St., SLO
7-9 AM
Cannon


1050 Southwood Dr., SLO
7-9 AM
Whole Foods


1531 Froom Ranch Way, SLO
7-9 AM
Wally's Bicycle Works


209 Bonetti Dr., SLO
7-9 AM
MINDBODY


4051 Broad St., SLO
7-9 AM
Arroyo Grande Hospital w/ Trinity Cyclery


345 Halcyon Rd., Arroyo Grande
7-9 AM
After Party
a Bikes & Beauty Fashion Show and Blowout Extravaganza!
Presented by Rideshare and Bike SLO County 
The Official Bike to Work Day After Party will take place at the SLO Guild Hall, 2880 Broad St., SLO, from 6:30-9:30 p.m. Admission is free and all food and drink purchases benefit Bike SLO County. Don't forget to bring your raffle ticket (available at all morning commuter stations listed above) for your chance to win a bike! First 200 After Party attendees will also receive a commemorative 2017 Bike to Work Day steel pint glass.