Visit San Luis Obispo County Car-Free and Get Discounts!
What is it?
Visit SLO without a car and receive discounts on travel, places to stay, and things to do!
Established in 2009 for cleaner air and a healthier planet, our mission is to preserve clean air, promote community and individual responsibility for air quality, and to promote economic and community well-being through encouraging car-free, care-free transportation to and around the San Luis Obispo area.
SLO Car Free promotes and provides tools to travelers on the pleasures and availability of traveling to our area without their cars, or by parking their cars once they arrive.  By pledging to travel to or around San Luis Obispo without a car, visitors receive special incentives from participating hotels, restaurants, transportation services and attractions. This website is a hub for information and web-links on transportation, lodging, attractions and other visitor needs.
How does it work?
Click the Register Here button below to sign up for the program. You will receive an email confirmation that will act as your discount verification at local businesses.
For Amtrak Discount: The email will also include a link to the Pacific Surfliner Amtrak website where you'll find a 20% off discount code to use at checkout (black out dates apply).

Why San Luis Obispo?
San Luis Obispo County is one of California's hidden gems along the central coast.  Boasting miles of open space, gorgeous rolling hills, local wineries and breweries, bustling downtown areas, and proximity to both beaches and mountains. Here you'll find world-class dining, boutique shopping, and quaint coffee shops as well as live music and cultural events/festivals year-round. The City of San Luis Obispo is often listed as one of the happiest cities in America!
Getting to San Luis Obispo
The San Luis Obispo airport is located on the southern end of San Luis Obispo, approximately 3 miles from the downtown SLO area. The airport services three airlines: Alaska Airlines, United Airlines, and American Airlines. There are direct flights to/from San Francisco, Los Angeles, Portland, Seattle, Phoenix, Denver, and Dallas.
Train
 Amtrak has two lines that travel to San Luis Obispo:
The Pacific Surfliner (Amtrak): This Southern Coast train arrives in San Luis Obispo twice daily and offers both coach and business class. Registering for SLO Car Free gets you a 20% discount on the Pacific Surfliner Tickets! This line runs from San Diego to San Luis Obispo.
The Coast Starlight (Amtrak): Provides daily service between Los Angeles and Seattle and stops in San Luis Obispo.

How do I get around once I'm in SLO?
Public Transportation/Bus
There are bus lines that can take you around SLO as well as to neighboring cities!  Visit this page to learn more or this page to find out how to purchase a pass.
Biking
Check out our online map here or pick up a printed bike map at one of the listed locations.
Walk
San Luis Obispo County has several walkable downtown areas. Head to the heart of Atascadero, browse Tin City in Paso Robles, or explore the Embarcadero in Morro Bay!

What should I do?
Visit downtown (website)!
Head downtown to shop, eat, visit The Mission San Luis Obispo de Tolosa, attend the weekly farmers market, or catch a movie!
Eat! 
No matter what type of food you're craving, San Luis Obispo's numerous dining options are sure to satisfy your desires. Try the legendary clam chowder bowl at Splash Cafe or experience creekside fine dining at Novo. Eating locally has never been easier than in the cornucopia of the Central Coast. With many restaurants serving local wines and fresh produce, you'll have a chance to get a taste of what San Luis Obispo has to offer.
Relax! 
While you're here, visit one of many amenities in SLO that may help you unwind! Visit the Sycamore Mineral Springs for a relaxing soak in a hillside hot spring. Head to Avila Beach to soak up some sun and enjoy an ice cream on the pier.  Visit the Spa at the Madonna Inn then enjoy a dip in their exclusive pool. Stop by the Secret Garden and enjoy the smells of herbs and spices in this tea shop tucked away in a cozy corner of downtown with shelves lined floor to ceiling with jarred teas and florals.
Get active outside!
San Luis Obispo has 12 open space areas designated for hiking and/or mountain biking with over 65 miles of trails! You can also find local crags for those rock climbing enthusiasts and miles of open road through wine country for the road bikers! Ready to get your toes wet? San Luis Obispo is only 10- 30 minutes away from 9 different beaches known for surfing, tide pooling, and kayaking.
Want more help planning your trip? Check out SLOCAL.
What discounts can I get? Click Here for a list!
Is your Business Interested in partnering with SLO Car Free?
We have a growing number of business and community partners – all encouraging car free transportation to and around San Luis Obispo. If your business or attraction would like to be a SLO Car Free Business, please send an email to info@rideshare.org.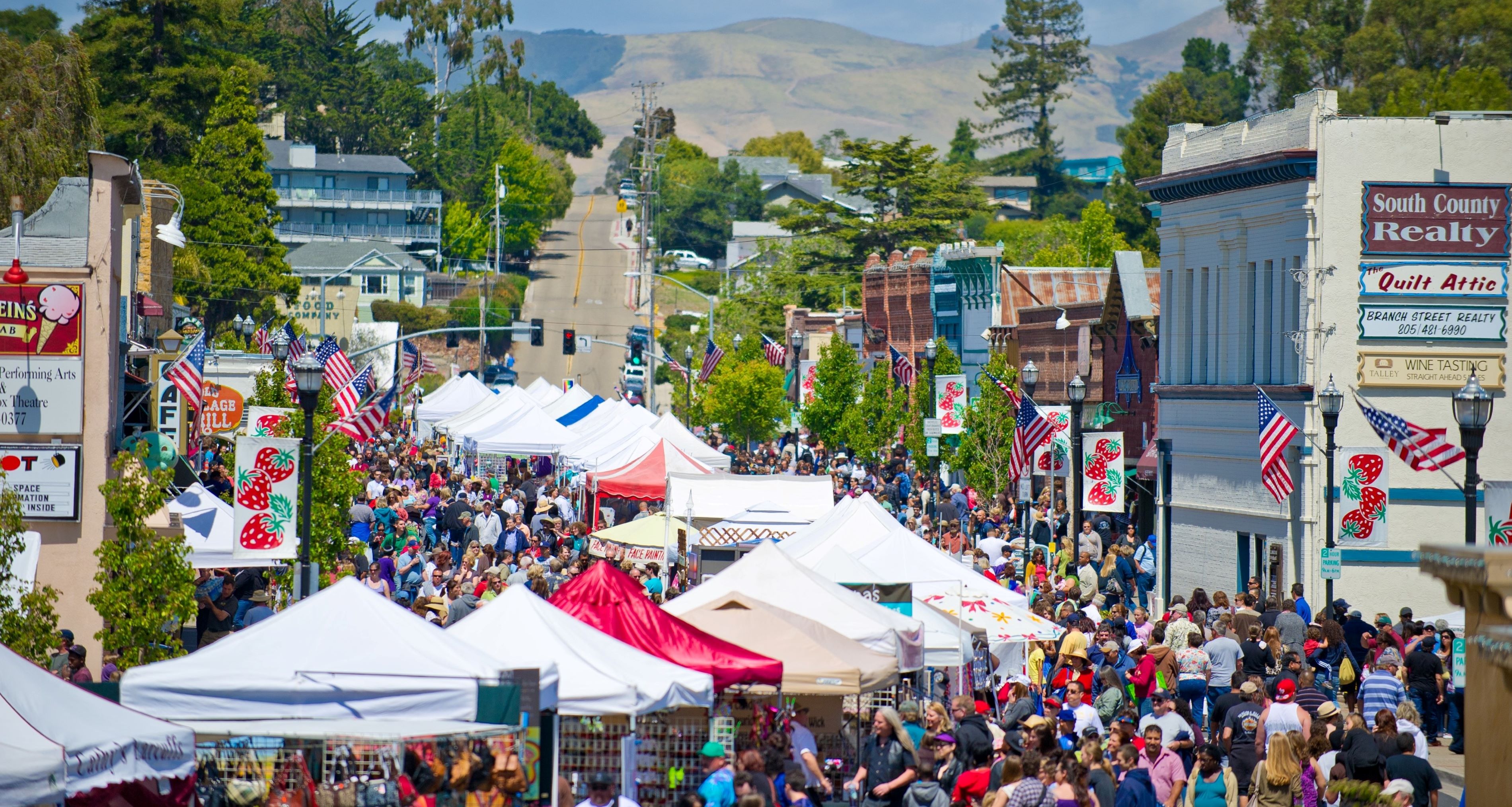 For more information on this project, or to add or change information on this site, contact info@rideshare.org.