Friday, May 18th is National Bike to Work Day!
Be a part of the biggest day in May and help demonstrate what SLO County is capable of when we all make an effort to reduce congestion, improve our health, save money and commute smart. See information below or check out the map in the April/May issue of SLO Life Magazine!
Stop at any Bike to Work Day Station for free breakfast and giveaways, including an exclusive 2018 Bike to Work Day bag!
The Bike to Work Day bag will feature bike gear and accessories from our partners at APCD, Bike SLO County, Tenet Health, the Back 'N' Forth Club and Slime.
2018 Bike to Work Day Commuter Stations
Morning commuter stations will be open to people on bikes and a Bike to Work Day evening after party will take place at the SLO Guild Hall from 6-9 p.m (details below). All stations are first-come, first-serve and giveaways are subject to availability. Please be courteous to our station hosts and thank them for supporting people on bikes!
Scientific Drilling


3003 Rollie Gates Dr., Paso Robles
7:15-9 AM
Atascadero State Hospital with K-Man Cyclery


10333 El Camino Real, Atascadero
7-9 AM
City of Morro Bay w/ Morro Bay Chamber


595 Harbor St., Morro Bay
7-9 AM
Cal Poly


University Union, Cal Poly Campus, SLO
7:30-9:30 AM
Ten Over Studio w/ SLO Bike Club


539 Marsh St., SLO
7-9 AM
French Hospital


1911 Johnson Ave., SLO
7-9 AM
Caltrans


50 Higuera St., SLO
7-9 AM
SLO Natural Foods Co-op


2494 Victoria Ave., SLO
7-9 AM
Cannon


1050 Southwood Dr., SLO
7-8:30 AM
Costco Wholesale


1540 Froom Ranch Way, SLO
7-9 AM
Sunrun


775 Fiero Ln., SLO
7:30-10 AM
Garing, Taylor, & Associates


141 S. Elm St., Arroyo Grande
7-9 AM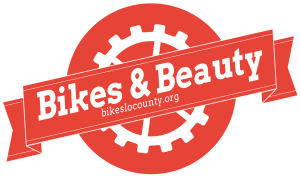 a Bikes & Beauty Fashion Show and Blowout Extravaganza!
the Official Bike to Work Day After Party
presented by Rideshare and Bike SLO County 
The Bikes & Beauty Fashion Show & Blowout Extravaganza will take place at the SLO Guild Hall, 2880 Broad St., SLO, from 6-9 p.m. First 100 attendees will receive a commemorative steel pint glass. Plus, the Bike to Work Day bike raffle drawing, Commuter Challenge winners, and more!
---
Show your support for Bike to Work Day!
Make a $10 pledge of support and get a 2018 Bike to Work Day t-shirt that lets people know you support smart commuting efforts.

---
ICYMI: Bike Month Has a New Home!
sloshift.org is the new home for Bike Month in San Luis Obispo County! It's also a place where people who ride bikes can find a year-round bicycle inspired events — and submit their own! SLO Shift is run entirely by the community, for the community, with the purpose of elevating and expanding bicycle culture in our region.
We are confident that this shift will provide Bike Month enthusiasts with the opportunity to truly shape its future. Our region is extremely fortunate to have had such a dedicated group of volunteers, partners and community leaders who have made this program possible over the years. It's allowed Bike Month to grow into what it is today: the largest community organized event in SLO County.
This May, Rideshare will continue to focus on its core mission to reduce the number of single occupant vehicles on our roadways during peak commute hours through Bike to Work and Bike to School Day activities. We will also continue to financially support Bike Month events that promote bike culture in our region outside of peak commute hours, through sponsorship funding applications available at sloshift.org. By doing this, our goal is to raise awareness and adoption of bikes as means of active transportation countywide.
---
You can find more on Bike to School Day, Wednesday, May 9th on our Safe Routes to School page.
For all other Bike Month calendar and sponsorship requests, visit sloshift.org.
#letsgetvisible